Plot

Young trainers of various skills are sent a mysterious letter with a ticket to Unova hidden within. It say's nothing other than you are invited to challenge the Unova league and are allowed with you one Pokemon from your team to travel with you, all other Pokemon must be caught in the region.

You arrive a Driftveil City with a map, some money, and your Pokemon. It's up to you to train and battle towards the top.

Rules

1. The Pokemon you start with can be any Pokemon as long as it is not a Legendary.

2. The Pokemon you choose cannot be above Level 40.

3. Battles, fainting, death, etc. must be portrayed realistically.

4. One trainer per person.

Form
Character name:
Looks:
Age:
Personality:
History:
Starting Pokemon:

Roleplayers' Characters

Sacha
Aaron
Rayla
Silvia
Luna
Abel
Eva-May
Liddie
Sebastian
Kat
AJ
Azlyn
Nara

TBU
Last edited by Green Hornet on Sun Oct 30, 2011 5:50 pm; edited 1 time in total
Admin




Posts

: 2142


Join date

: 2011-09-07


Age

: 18



Character name: Muire Flynn

Looks: Muire is a bit short for her age, with brown hair that frizzes up when it rains. She wears a fleece vest over a flannel shirt. The vest says 'FIRE TYPE FTW' on the front of it, and she wears cargo pants, which she keeps most of her stuff in. Her eyes are a bright blue color and she wears red glasses. She has a scar over her right eye.

Age: 15

Personality: Muire is crazy, sarcastic goof that loves to joke. She's highly intelligent but she has a reckless battling style. She can be demeaning sometimes but it's just because she mainly interacts with Pokemon, not people. Her best friend is a trainer named Laur, who she left behind when she left Johto.

History: Muire grew up in Johto, and when she was young she followed Professor Elm everywhere. She though Pokemon were completely awesome, so she decided to go find one by waltzing around the forest. When she was eight, she snuck out of her room and headed out to find herself a Pokemanz. Almost as soon as she left New Bark Town, a Pidgey divebombed her, scratching her face and leaving a deep scar.

The wound knocked her out and she woke up to find a Pikachu staring down at her. A young girl around the same age as Muire called the Pokemon back. After a quick conversation, Muire found out that the girl had done something similar: She left her home in Kanto to find Pokemon and got attacked by a Pikachu. She suffered loss of memory and wandered from place to place, until she found her way to Johto.

The went back to New Bark Town, where Elm decided to give her a Pokemon in case something like that ever happened again. Muire chose the Fire type: A male Cyndaquil named Third Degree Burn, or 3rd Degree for short.

The rest is history. She beat the crap out of everything with her best friends, Laur and Third Degree, and now she received this letter telling her to come to Unova. With Laur watching her other Pokemon back at home, Muire and Third Degree are coming to this new land to find all sorts of exotic Pokemon!

Pokemon:
1. Third Degree Burn the Quilava, Male, Level 35: Flame Wheel, Ember, Double-Edge, Eruption
2. Colm Amhain the Blitzle, Male, Level 18: Quick Attack, Flame Charge, Thunder Wave, Shock Wave
Last edited by Green Hornet on Sat Dec 17, 2011 7:24 pm; edited 1 time in total
Admin




Posts

: 2142


Join date

: 2011-09-07


Age

: 18



Character name: Sacha Drake
Looks:
http://jaqueline-keen.deviantart.com/art/Sacha-Drake-266301225
Age: 17
Personality: She's relaxed and good natured, It hard to get on her nerves and she tends to laugh at everything. She loves her Pokemon fiercely and with the air of someone who has lost some in the past. There are a few things she can't stand, Bigots and poachers among them. Bigots especially.
History: She moved around allot when she was young and didn't get to start her journey until she was 13 because of it. She started her journey in Jhoto, her starter was a female Cyndaquil she named Tana. With Tana along for the ride she took on the Jhoto league, she came 15th and after that she went to tackle the Elite four. She got all the way to Bruno before she was defeated; his Onix did a number on her pokemon. After this she took a year off to recuperate and help her mum set up her new business, a pokemon resort where trainers could leave their pokemon to relax in a natural environment, it was a huge success. At 15 she took on the Hoenn league, this is where things got bad, her 3rd night of travel and she was jumped by a band of thugs calling themselves team Aqua. They told her how they planned to extend the ocean, the fight was brutal and bloody and in the end Tana was killed. It was a terrible blow that broke the young trainer. Her mother sent her to live with her cousin in Sinnoh, she came back a year later, more her old self but still different. Now at 17 this letter has arrived, curious as always she decided to go.
Starting Pokemon: Titan; Houndoom, Male, lvl 36. Moveset; Bite, Beat Up, Fire Fang, Faint Attack
2nd Pokemon: Yossarian; Pidove, Male, lvl 17. Moveset; Growl, Leer, Quick Attack, Air Cutter.
3rd Pokemon: Apep; Snivy, Male, lvl 8. Moveset; Tackle, Leer, Vine Whip.
4th Pokemon Place Holder; Sarge, Male, lvl 22; Bite, helping Hand, Take Down, Work Up
Last edited by Rosethorn95 on Tue Dec 20, 2011 10:53 pm; edited 4 times in total
Admin




Posts

: 2622


Join date

: 2011-09-09


Age

: 23


Location

: Startrekking Across the Universe on the Starship Enterprise under Captain Kirk



((Please excuse the size of the picture! I would give it to you as a link, but since I haven't been a part of this forum for seven days, I am unable to post external links... And I can't resize the picture either because my internet is being a weirdo and won't load photobucket..))
Character name: Amelia (Amy) Mills
Looks:
Age: 16
Personality: She is known to be friendly and she loves to act like a total spaz in front of her friends. She likes to think through her battles carefully so that she can get the best results. She can be smart, yet also quite thick-headed , and she loves her Pokemon to bits.
History: Amelia was born in Hoenn with her family owning a small inn just off Petalburg City. It wasn't until she was 11 years old that her family moved the inn over to Littleroot Town, where she met Professor Birch. This was where her real adventure began.
After showing great interest in Professor Birch and his study of Pokemon, she was offered to start her journey out into the world of Pokemon by choosing Torchic as her starter Pokemon. Amy travelled all over Hoenn, beating each Gym Leader after the next, finally ascending to the Hoenn League at the age of 14. She was forced to leave halfway through the League due to her Blaziken collapsing from a horrible illness that she had already believed to be cured. Through several months of torture, Amy's Blaziken had to be put down, leaving Amy heartbroken.
Amy left for home for several months before she decided to pick up on her journey once again. With even more vigorous training, she was at the Hoenn League once more and many Revive's and Health Restore's later, Amy had beaten Steven by a hairs breadth. She had only recently turned 16.
Not long after returning home for a well deserved break, Amy was given an Anonymous letter, saying that she had been challenged to beat the Unova League.
Starting Pokemon: Stark; Absol, Male, Level 38: Crunch, Shadow Claw, Blizzard, Thunderbolt



Posts

: 15


Join date

: 2011-11-02


Age

: 22


Location

: Under your bed... Watching you sleep O_O



Character name: Rayla Grython
Looks:
(One with black hair is her cousin, Danielle.

) Small, figure. Long reddish brunette hair that reaches to the mid of her back. Sharp greenish blue eyes and slightly tanned skin. She also wears a faded black hoodie and black leather boots with dark metal buckles. During harsh training, she ties her hair back and wears a red bandanna. She also where's black, fingerless gloves. She also wear cute little black bat-like wings between her shoulder blades since her dream was to always be connected with her dragons. She has large black stud earrings with a ruby carved to look like a dragon's eye in each onyx stud.
Age: 16
Personality: Kind to ones she trusts, but sorta harsh when training her pokes. Keeps away from conflict, though it often tends to come her way. She is normally calm and is a girl of few words, but when pokemon, who's ever they may be, are threatened, she acts like her father, pure-hearted, but brutal.
History: Born in Goldenrod City, her father taught a school in Blackthorn City, training dragon types to battle. She and her mother and brother, Abel, moved to Blackthorn when her father was injured while training. Still in the hospital, her father remained frail and weak and her brother often caused trouble in the school, bothering his father's assistants. When Rayla was seven, Abel, who was 12, stole a Dragonite egg and ditched town. Their father had died and their mother was too distraught to follow Abel. Everyone else disliked Abel and didn't go to search for him. One day, Rayla traveled to visit the Dragon Master Elder to ask him to find her brother. Instead, the old man saw potential in Rayla and told her to track down her brother and gifted her with another Dragonite egg. So she left town with the egg and a young Swablu named Blizzard. In the years to come, Rayla and Abel grew to be hated rivals, their Dragon pokemon fighting against each other. Rayla never did get the stole egg back, but she did become a great trainer. When she was 14, she was challenged by Lance, Johto's champion and she bet him, using his Altaria's Perish Song against him. Later, she met Wallace , but never faced him, though Lance had often broght Rayla to train with both Wallace and Cynthia. The young trainer grew close to the three masters, but never stayed with them for too long. Now, being 16, when she's not busy training her own pokemon, she's either in Blackthorn City helping at her father's old school or in Goldenrod City helping her mother breed pokemon. She is a seasoned breeder, her biggest feat was a litter of epic pichu (Which I really did breed in my Heartgold game. There were 5 lv.1 pichus that knew the moves Iron Tail, Volt Tackle, Flash Cannon, and Thunder without me teaching them. I'm trying to give them away

), and a Dragon Master-in training, going by Rayla the Whimsical Dragon Master. She is famous among the cities she grew up in, but she is barely a mirage in other places and regions. Now, she is busy training Kitty, her youngest Flygon who was her best contest winner Buzzer's daughter. She caught Buzzer in her time in Hoenn, which was the only region she stay the longest in besides Johto. After facing her brother in battle, the innocent and curious Rayla that most had love was gone and a new, head-strong and independent trainer was revealed, capturing the hearts of her beloved fans yet again. Still in Blackthorn City lives one of her dad's old friend's son, Tyler. Tyler helps at the Training school and watches over Rayla's prized team, though they don't always listen to his commands. It is then that Blizzard, Draco, and Buzzer step in to control the misbehaving trainees like Riptide, Sally, Stonesong, and Charmer. Tyler often send her letters, wishing that Rayla and Kitty have a safe journey and that her team is rooting for her. As for Rayla's mother, Taylia, she staying in Goldenrod with her Glameow, Dazzle, and Rayla's brood of news-worthy pichu. Every so often, she'll send Rayla money for safe-keeping and wishful thinking. Rayla had been training in Stark Mountain in Sinnoh when she recieved the challenge letter. Never backing down from a fight, she decided that it would be good training for her stubborn, moronic flygon and she accepts, heading to the newest region added to her map.
Starting Pokemon: Kitty, Flygon.Lv. 37 (Which is weak by Rayla's standards. Her others are no lower than lv. 80 except for the ones she's busy training) Moves: Sonic boom, Solarbeam, Hyperbeam, Draco Meteor
Bellatrix, Lillipup. Lv. 15 Moves: Bite, Take Down, Tackle, Odor Sleuth
Sierra, Axew. Lv. 28 Moves: Dragon Claw, Dual Chop, Dragon Rage, False Swipe
Last edited by MewMew100 on Fri Jun 08, 2012 3:17 pm; edited 8 times in total
Admin




Posts

: 5226


Join date

: 2011-09-08


Age

: 21


Location

: The Digital World, suckaz!!



Character name: Aaron
Looks:
Link
Age: 17
Personality: Aaron's easygoing. He tend to be carefree, and wild. He has no regard for the rules, even a slight preference to break them. He tends to stray from the common crowd though, going on his own. He's like a stray cat, carefree, except for when it comes to food, wandering and going wherever he wants. No collar or leash can bind him. Aaron loves a challenge, and is highly competitive, but never had anyone to compete against. Aaron is compassionate. Though at times, he tries to hide it with a false outer shell of tough and seriousness. Although his carefree nature tends to break free at times, because he can't hide himself. At heart he is kind. Although easily annoyed when tired. With all that said, Aaron tends to be unforgiving. But in a peculiar way, he forgives most things people have done to him, but doesn't forgive what someone does to someone else, especially if the victim was friend or family.
History: Aaron grew up on Cinnabar island. He was the grandson of the gym leader. He grew up around trainers, and Pokemon. Especially fire type. His grandfather tried to enlist a love for fire type Pokemon in him. But to no avail. Aaron tries to like all Pokemon equally, though he does have a slight, very slight, preference for flying and fire types.
Growing up, Aaron helped around the gym a lot. He grew accustomed to the company of Pokemon. Often he preferred the company of Pokemon, rather then humans. Growing up on the island, was a bit lonely. He grew up around adults, most of them trainers. There were very few children on the small island. So Aaron was often alone, except for the company of Pokemon.
Because of the lack of children on the island, there wasn't even a school. Aaron was home schooled by his parents, his mother deeply cared about his education. She bought special books to help teach him.His father, a scientist, was coaxed by his mother, to teach Aaron his study. Thus, although Aaron is only 17, he excelled beyond the high school level, and had a typical high school education at 15.
By 16, Aaron had left the island. He took a boat to a nearby town called Pallet town. Where a friend of his grandfather's, Professor Oak, gave him his first Pokemon, that was his very own. Aaron's been travelling the region, ever since with his beloved Pokemon. He traveled all over, with no goal in particular. Wandering and trying to see all the different types of Pokemon, though not for Professor Oak. But for himself.
He did challenge the Pokemon league but, after a few gym's, gave up. It was all too easy. He didn't mind though. He was happy just adventuring around. He had always had a love for adventure, even as a child he was always exploring the small island he called home.
Thus, when the letter came in the mail. A potential challenge, and an adventure. He jumped at the chance.
Starting Pokemon: Raigard the Charizard. Level 38. Moves: Flamethrower, Dragon claw, Aerial ace, Slash



Posts

: 2773


Join date

: 2011-09-08


Age

: 20


Location

: The land of Fire and Earth



Hey, guess what! Rose said I could join! *Jumps around*

Character name: Sylvia Heartfield
Looks: Sylvia has long, wavy, flame-red hair. She likes to wear black or brown boots most of the time, but wears sneakers or sandals for something casual. She wears dark blue skinny jeans, a dark purple tank-top, and a thin black jacket if it's cold. She always has a fierce, determined glint in her emerald-green eyes (Don't know why I'm in love with emerald green eyes XD) and she often wears a cunning smile. Her hair is rarely put up in a pony tail or braids of any sort.
Age: 15
Personality: She stubborn, fierce, and determined to be the best trainer. She thinks she can beat anybody, wich has got her in a lot of trouble. She won't listen to anything anybody tells her, doesn't take commands, and doesn't take advice. She's a cunning, devious child, always looking to trick somebody or even trick a pokemon out of something.
History: Ever since she was a young child, Sylvia wanted to be the best pokemon trainer in the whole world. Everyday she dreamed of the pokemon she would get when she was old enough. Finally, that day came. She walked outside, breathing in the familiar scents of pallet town. She proudly walked to Prof. Oak's lab and fell in love with the little charmander the moment she saw its cute little face. Her eyes sparkled as she picked it up, and said "I'll call you Fireheart!" She set off on her adventure with a spring in her step. Her and Fireheart swept through Kanto like a wildfire, only coming across a few snares. The charizard was just as fierce and determined as his trainer. She then traveled to Johto, followed by Hoenn, and finally Sinnoh. They had a tougher time in Sinnoh than most of the other regions. Sylvia and Fireheart can't be seperated, since they've gone through so much together. They trust eachother completely.
Starting Pokemon: A level 39 Charizard named Fireheart. Fireheart trusts Sylvia completely, and he'd never betray her. He loves to battle and, like his trainer, he often bites off more than he can chew. He has a nasty scar on his tail where it was almost cut off by a scyther. He knows: Flamethrower, Fly, Hyper Beam, and Wing Attack (I actually did come up with this name by myself. My first ever pokemon on my first game (Blue version) was a charizard named Fireheart. I love Fireheart to death, still, but sadly his little pixeled self has been deleted )

Mod




Posts

: 4508


Join date

: 2011-09-08


Age

: 18


Location

: Possibly in Oz. possibly.



Character name: Luna
Looks: She's short, skinny, and very pale. She wears gray sweatpants, a light blue t-shirt, and a black jacket. She has long, straight black hair that falls almost halfway down her back and piercing electric blue eyes. Her left arm has several deep red scars running down it that look suspiciously like claw marks.
Age: 16
Personality: She's quiet and likes to keep out of discussions most of the time, unless it's to add either a rude or helpful comment (depending on her mood). Once she becomes friends with someone, which is usually a bit of a challenge, she's very loyal to them. She's competitive and only rarely refuses a challenge. Luna has a habit of holding a grudge against anyone who defeats her in battle and will often go to a lot of trouble to get revenge by beating them in another battle.
History: She grew up in Snowpoint City, with its freezing weather and tough trainers. She stayed there for a long time. She saw no point in leaving her home to explore the region. She was just fine with what she had now- friendly ice Pokemon, including her own Froslass, Belle, whom she'd made friends with when she was little, the quiet little home on the edge of the city where she lived with her mom (she still isn't sure what happened to her dad, her mother refuses to talk about it), the chilly weather she'd become accustomed to. Her favorite pasttime had always been to go to Acuity Lakefront with Belle and challenge the Pokemon there, and through that the Froslass became her valuable battling companion.

One day, though, she'd been heading back to town after a few battles with Belle. She ran into a young trainer, who, after faceplanting in the snow and apologizing for not paying attention, introduced himself as Austin. She knew he wasn't from around Snowpoint- despite his heavy winter clothes, he was shivering. He also looked horrified that Luna herself was only wearing light clothes.

They didn't have much of a chance to become friends, though Luna did learn a few things about him; he was one of those trainers who travelled around the region, collecting gym badges and aiming to defeat the Elite Four. He'd only come to Snowpoint to challenge the gym leader there, and then he'd leave. Luna slowly began to want to travel as well, to leave the place she grew up in. The last straw was when, after defeating Candice, Austin battled her and won with his powerful Infernape. Several days after he'd left, she made up her mind to track him down and defeat him.

She never did, though. She obtained a powerful group of Pokemon, along with Belle, including an Umbreon named Chance, whom she left with her mom after recieving the strange letter. By then, she'd grown used to travelling and, as was in her nature, jumped at the new challenge set before her. But before that time, she'd had a run-in with a very vicious Houndoom, giving her the scars on her arm. Since then, she's been skittish around fire types with claws, especially that species.
Starting Pokemon: See below...

Notes on owned Pokemon
1. Belle, lvl 37 Froslass- Blizzard, Destiny Bond, Protect, Thunder Bolt: Starter, in party
2. Akira, lvl 17 Purrloin- Fury Swipes, Pursuit, Sand Attack, Assist: in party
3. --
4. --
5. --
6. --
Last edited by Sheyna on Mon Dec 19, 2011 8:23 pm; edited 1 time in total
Mod




Posts

: 2007


Join date

: 2011-09-08


Age

: 20


Location

: I'm not behind you, I swear!



Name: Valentina (Val)
Age: 13-14
Profession: Coordinater/Trainer
Looks: She wears what the girl is wearing: (NOTE: The girl is NOT Valentina)

This girl IS Valentina in her contest outfit: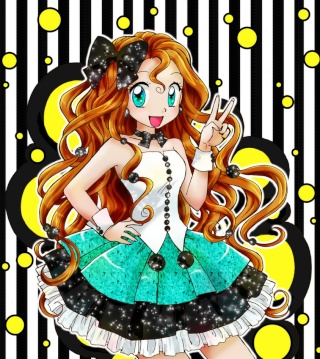 Personality: A dreamer, a believer, and a fighter, Valentina lives up to the meaning of her name: Brave. She will never back down from a fight, unless her Pokemon are injured. Her flaming, sometimes rude personality sometimes gets the best of her, but her passion for Pokemon training and her friends keeps her on her feet. She is defiantly not a people person, though; she tends to rather spend time with her Pokemon than with other people. She feels kind of awkward when talking to strangers, most likely because of her lonely past as a young child.
History: A sad, lonely past didn't stop Val from being a confident, young individual. Her parents never really paid attention to her. She was just kinda, you know, there. She was born in Sinnoh, and since her parents never really paid her any attention, they gave her a Piplup when she was 2 so they wouldn't have to deal with her. When she turned 5, her parents died in a freak train accident, and she and her Piplup had to move to Johto to live with her Aunt and Uncle. Traveling, she found a wild Lickitung and a Pichu egg which hatched later on. At the age of 10, she's been traveling around to fulfill her dream in finding a place in the world. She just recently arrived in Unova.
Pokemon:
Blair/Empoleon [M] Moves: Surf, Giga Impact, Hyper Beam, Peck
Lolli/Lickitung [F] Moves: Lick, Slam, Rollout, Sand Attack
Pic/Pichu [M] Moves: Sweet Kiss, Swagger, Charge, Electro Ball



Posts

: 1563


Join date

: 2011-09-09


Age

: 18


Location

: Black Star>>>>>>>everything else



Character name: Nara
Looks: Nara is taller than average with lanky limbs. Her mostly-straight blonde hair goes just past her shoulders, curling slightly inwards at the tips. She has warm, cocoa-brown eyes and a wide smile. She has a thin, curving scar on her right cheek, obviously recieved not long ago. She commonly wears a slightly loose, but not baggy, shirt and a thin plaid jacket that's a multitude of red and black shades. She wears knee-length frayed jeans, sometimes with a few holes from the wear of being out for a long time.
Age: 13
Personality: She's a bit shy around people she doesn't know and slightly niave. Her curiousity tends to get her in trouble, even though she tries to stay away from it. When she's not sweet and shy, she's determined, though she does let her spirit get dashed out by others. I'll develop her more as the RP goes on, as this character still has aspects I can't even fathom.
History: She was born in the small town of Nuvema, with her father, mother, and two older brothers. As she got older, she went out to work for her family more and more; in a town like Nuvema, supplies weren't too readily avaliable. She became used to seeing the patrats and lillipups of route one skittering around as she traveled to Accumula or went into the surrounding forest. Her life was quite simple; she didn't have many ambitions, and she was content. As she neared the age of eleven, her oldest brother, Warren, of 18 years moved away to Castelia to escape the dull little town. A sense of longing started to grow within her, intensifying over the months and years. Finally, just before her 13th birthday she went out to interact with the Pokemon. As she bent down to offer a seemingly-innocent Patrat an berry, it let out a shrill cry and raked its claws across her face. Most of the marks healed except for the thin, curving scar on her cheek. After that, he parents agreed to let her choose a Pokemon from Prof. Juniper's lab and set out with it, so she wouldn't again be hurt by her own longing.
Starting Pokemon: A contrary little Snivy named Tria(Don't know where I came up with Tria; I probably, most likely, stole it. IDK.)

Finally done with that. I have a feeling she'll become more interesting. By the way, her other brother is, at the time, 16 and named Henry.


Mod




Posts

: 4508


Join date

: 2011-09-08


Age

: 18


Location

: Possibly in Oz. possibly.




---
Permissions in this forum:
You
cannot
reply to topics in this forum